Wojciech Szczęsny – geniusz pola bramkowego na wybojach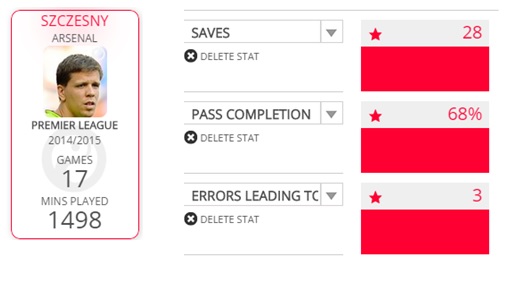 Wojciech Szczęsny stracił niedawno miejsce w pierwszej drużynie Arsenalu. Polaka bardzo mocno krytykowali eksperci i media, a kulminacją był słaby mecz z Southampton. Do tego, jeśli wierzyć doniesieniom Szczęsny po meczu palił w szatni papierosa i wdał się w kłótnię z trenerem, za co został ukarany finansowo. Od trzech spotkań Polak nie podnosi się z ławki rezerwowych, ale czy zasługuje na pierwszy skład?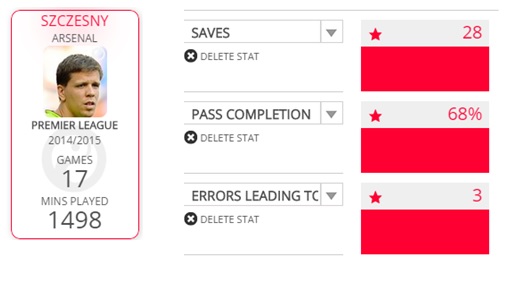 Oto wybrane statystyki Wojciecha Szczęsnego w tym sezonie. Przede wszystkim rzuca się w oczy jedna: "Błędy skutkujące stratą bramki". To statystyka zarezerwowana dla wpadek takich jak podanie pod nogi napastnika. Wojtek ma takich błędów aż trzy. W całym sezonie zaliczył ponadto 28 interwencji a skuteczność podań Wojtka jest na poziomie 68%.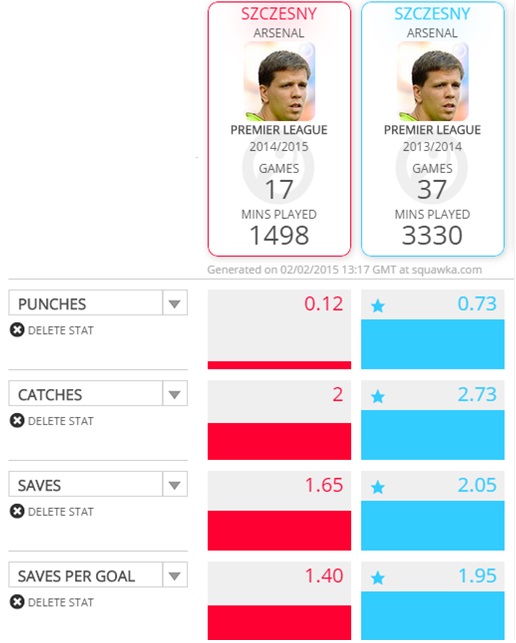 W zeszłym sezonie Szczęsny otrzymał nagrodę "Złote Rękawice", a eksperci zgodnie wybierali go do rankingów najlepszych bramkarzy na Wyspach. Spójrzmy na statystyki Wojtka z sezonu 2013/2014(po prawej) i obecne(po lewej). Wojtek dużo rzadziej piąstkuje piłkę. Zaledwie 0.12 piąstkowania na mecz, podczas gdy w zeszłym sezonie było to 0.73. Spadła także statystyka wyłapanych przez niego piłek z 2.73 do 2. Czyżby Szczęsny stracił pewność siebie i obawiał się wychodzić do dośrodkowań? Faktem jest, że Polak miewa problemy ze zbyt pochopnymi wyjściami z bramki co kończy się czerwonymi kartkami lub traconymi golami(jak w Southampton gdzie przelobował go Saido Mane).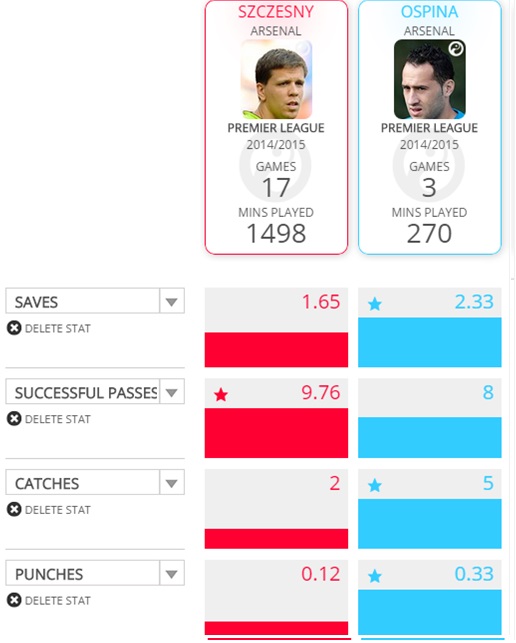 Dla Arsene'a Wengera najważniejsze przy doborze składu będzie jednak nie to, jak zmieniła się forma Szczęsnego, a to jak prezentuje się jego bezpośredni konkurent. A forma Ospiny może Francuzowi tylko imponować. Kolumbijczyk nie puścił jeszcze w Premier League bramki. Notuje on aż 2.33 interwencji na mecz, czym oddala ewentualne zarzuty, że jego seria bez puszczonego gola to zasługa wyłącznie obrońców. Ospina jest też aktywniejszy od Polaka na przedpolu. Łapie ponad dwa razy więcej piłek w ciągu meczu a piąstkuje prawie trzy razy częściej niż Polak. Druzgocącą dla Polaka statystyką, jest jednak pozycja "czyste konta" Wojtek w 17 meczach zanotował ich dokładnie tyle samo co Ospina. Pozostaje jeszcze pytanie, czy Ospina jest w jakiejś wybitnej, nieprawdopodobnej formie i dystansuje każdego bramkarza? Cóż, niestety nie.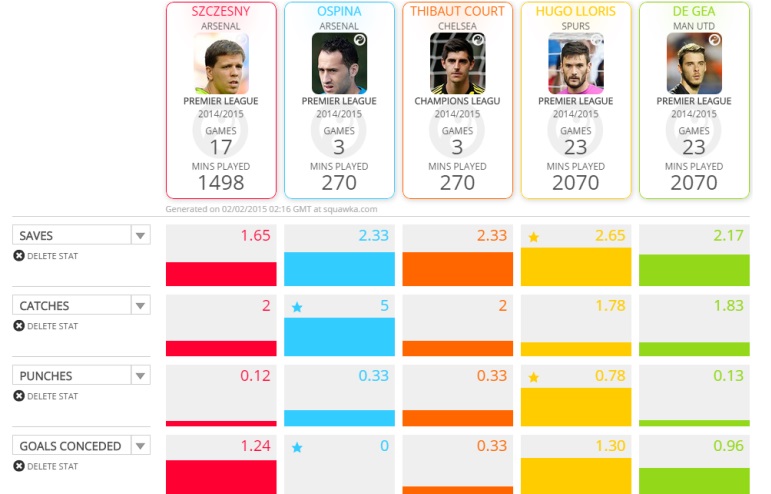 Do porównania, poza Szczęsnym i Ospiną wytypowałem trzech czołowych, zbierających najlepsze noty bramkarzy w tym sezonie, czyli golkiper lidera Premier League Thibaut Courtois, niesamowity David De Gea, którym zachwyca się chyba każdy kibic Premier League, a do tego Hugo Lloris, czyli golkiper Tottenhamu, będącego najpoważniejszym rywalem Kanonierów w walce o czwarte miejsce w lidze. I na tej grafice widać dobrze,że jeden z bramkarzy odstaje od pozostałych… i jest to właśnie Szczęsny. O ile w przypadku złapanych piłek nie jest jeszcze tak źle, bo pozostali poza Ospiną notują podobną średnią wyłapanych piłek na mecz. Za to oni nadrabiają piąstkowaniami których Szczęsny ma nawet mniej od De Gei, który raczej nie słynie z wyjść na przedpole, tylko woli bronić na linii. Szczęsny wpuszcza też więcej bramek od De Gei czy Courtois. W przypadku Llorisa liczby wyglądają podobnie, ale warto zauważyć, że Francuz wykonuje znacznie więcej interwencji, zanim skapituluje. Jeśli chodzi o błędy skutkujące bezpośrednio straconą bramką, tylko Lloris zaliczył jeden taki. De Gea, Courtois i Ospina takich błędów nie popełnili. Na koniec porównanie które może najbardziej zaboleć Szczęsnego.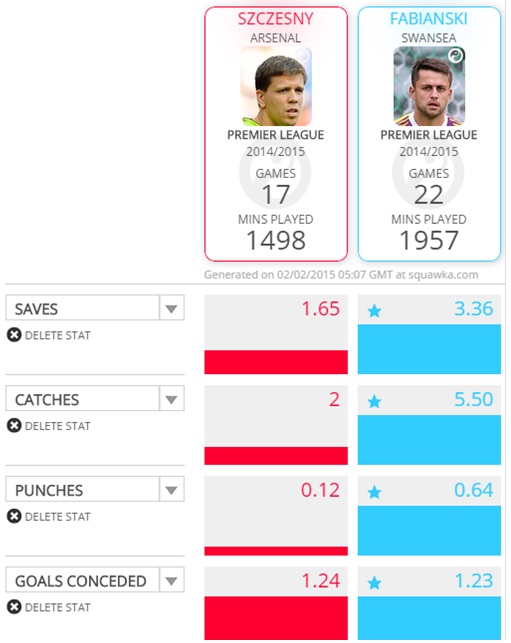 Wojtek wypada znacznie gorzej od zawodnika, który latem opuścił Arsenal, czyli od swojego wieloletniego rywala, Łukasza Fabiańskiego. Fabian zamienił ławkę w Londynie na bluzę z numerem 1 w Swansea i póki co dobrze na tym wychodzi. Kibice Swansea też nie mają powodów do narzekań. Fabian notuje ponad dwa razy więcej interwencji podczas meczu, niż Szczęsny co nie może dziwić. Defensorzy Swansea to jednak półka niżej niż obrońcy Arsenalu. Ale przy tej dysproporcji Szczęsny powinien puszczać mniej bramek a tu niespodzianka. Wojtek średnio w meczu traci 1.24 gola podczas gdy interweniujący dwa razy częściej Fabian puszcza 1.23 gola na mecz. Statystyka mówi sama za siebie i w zasadzie wskazywanie, że Fabian piąstkuje pięć razy częściej i ponad dwa razy częściej łapie piłki jest zbędne.
Podsumowując, sytuacja Polaka wygląda naprawdę słabo. Nie dość, że Ospina jest w bardzo dobrej dyspozycji to sam Wojtek obniżył loty i raczej nie daje argumentów aby ponownie na niego postawić. Jeśli sytuacja się nie zmieni to Polaka czeka do końca sezonu gra jedynie w Pucharze Anglii i wyczekiwanie na potknięcie lub uraz Kolumbijczyka.